There are some steps you need to take especially in a situation of you thinking about what to do when you cannot pay back your debt.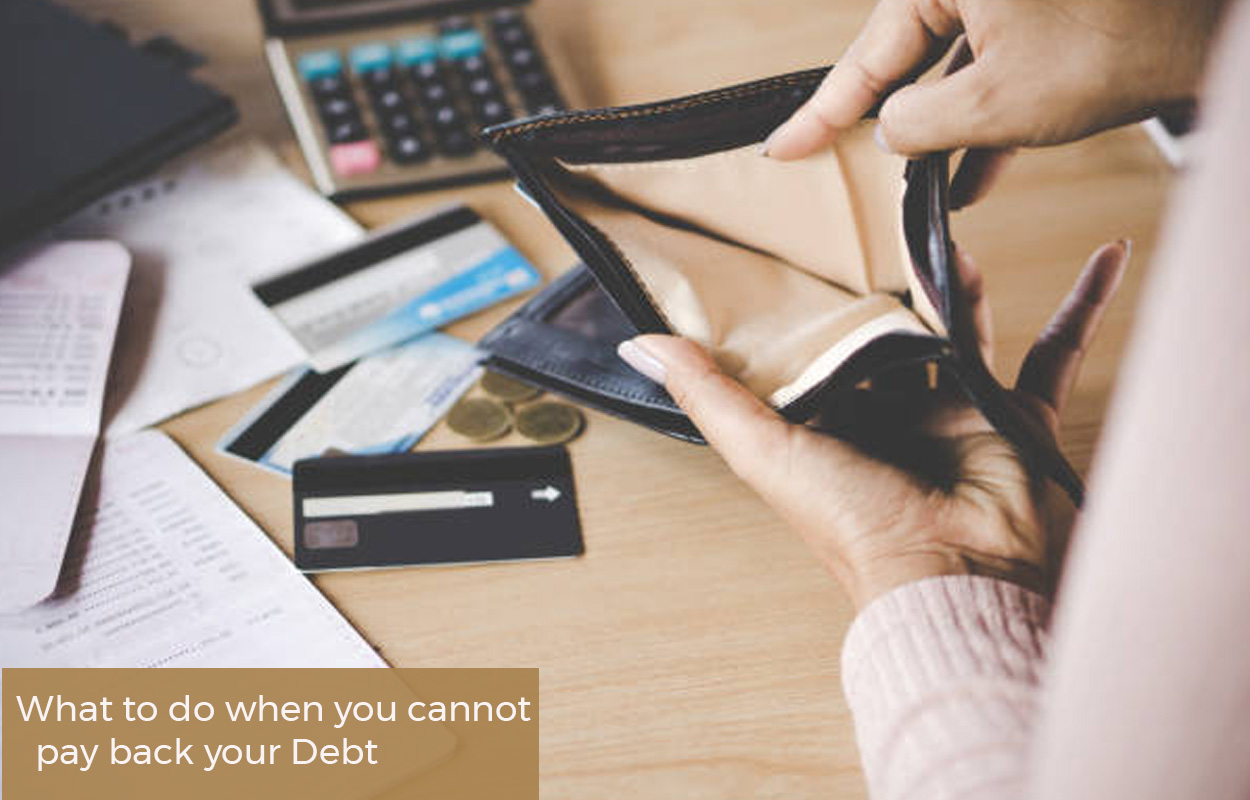 Working on your inner mind should be the first thing you can do before making any step forward, this simply means you have to make a decision that will take you from being in a dept to a free man living a peaceful life.
However, if you are going through debt issues, you are likely to lose focus on anything you engage in.
The truth is that you need to put yourself together and think of a proper solution and a plan that will be a great driving force to your freedom.
What to do when you cannot pay back your Debt
Some companies and sets of individuals are finding it difficult to step out of debt, with this article you know what to do when you cannot pay back your dept.
However, when you owe a large amount of money, it can be frustrating too especially when you try to take a loan from another financial service and you are rejected. If you are in such a situation you need to be calm and strategize on the steps that you will see in this write-up, you will surely get yourself from any mess you are going through.
Moreover, in life, there is time to face some worries but the ability to conquer them matters a lot. Only the smart and hardworking ones can come out from any money issues and will later bounce back to a successful journey because of the time they dedicated.
Five ways to get out of the Dept
Most people have been thinking of ways to get out of debt, below are some ways you should follow to take out of dept.
Sell items that can attract buyers
If you are finding it difficult to pay your debt, it is necessary for you to go into your house or shop to check for those valuable things that will bring good money to clear your dept.
Furthermore, instead of you dying in debt, it is better for you to make this decision to clear every dept that can put you into any problem.
However, you can also sell those items you no longer use anymore and once you are done selling, you should proceed with paying your dept.
Request for a Lower interest rate
As a debtor, you should be loyal and you have to make good decisions that will clear your dept, you have to request your creditor to minimize the interest rate added to the money you loan.
Furthermore, if you can maintain a good relationship with your creditor, you will be allowed to have a lower interest rate.
And also, you have to make yourself qualify to be given a lower interest rate by paying off your debt on the estimated weekly or monthly basis given to you.
File Bankruptcy
When there is no medium to clear your dept, you should make use of Bankruptcy. However, this should be your last choice when you have tried other means to pay your depth.
This strategy is when you do not have any money or income to clear your dept and also if you feel more like a good person who cannot stand any bad compliment, you can make use of chapter 7 bankruptcy filing. Chapter 7 is used to discharge credit card bills totally
Cash on your savings account
When you find yourself in such a situation, you are likely to make use of your savings money. In most cases, debtors are confused about what to and they might be scared to cash out from their savings account, you need to take yourself from problems that cause you to hate speech.
Furthermore, it is important to take this bold step to pay your debt by going to the bank to cash out your savings from your account, so that you will be free from every dept issue.
Engage in a different legal job
This strategy is very essential in such circumstances. If you are facing difficulties and you want to clear your name from any dept list, you need to engage in different jobs that will make you earn good money. This is the best thing to do if you desire to pay off your debt and also while working, you should make a list of your daily and weekly expenditures. With further explanation, you have to limit the way you spend money daily so that you will be able to pay off your dept.
Frequently Asked Questions
These are some questions asked by users online who are finding it difficult to pay back dept. Below are answers to those available questions.
What are my options if I can't pay my dept?
If you are finding it difficult to pay back debt, it is necessary for you to explain to the lender the reason for the daily and you should at least give them hope that you will pay later.
Does debt get forgiven?
If you can give a good explanation to the lender, you will be given another chance to clear up your debt and might be given another loan if you request any type of loan. The truth is that what will make you be forgiven is your sincerity and transparency, especially when you try to clear up every dept you owe the lender.
What happens if you cannot pay bills?
If you are unable to pay bills and if it cost a large amount of money, your property or valuable things that are worth the bills dept will be taken away from you.
How can I pay bills with no money?
These are five ways that you can use to pay bills when there is no money.
Create a budget
Make contact with your creditors.
Prioritize your bill at hand
Engage in several Jobs
Go for credit counseling
What is a forgiveness letter loan?
This is a type of letter that is sent to a debtor telling them they are forgiven for not paying their debt to a creditor. In most cases, the debtor is informed not to pay back the dept.
CHECK THIS OUT: