If you want to get hold of the stocks that benefit from severe weather events, then you should check this out. Here in this article, you will get to find out about seven stocks that benefit from severe weather events so you can be enlightened.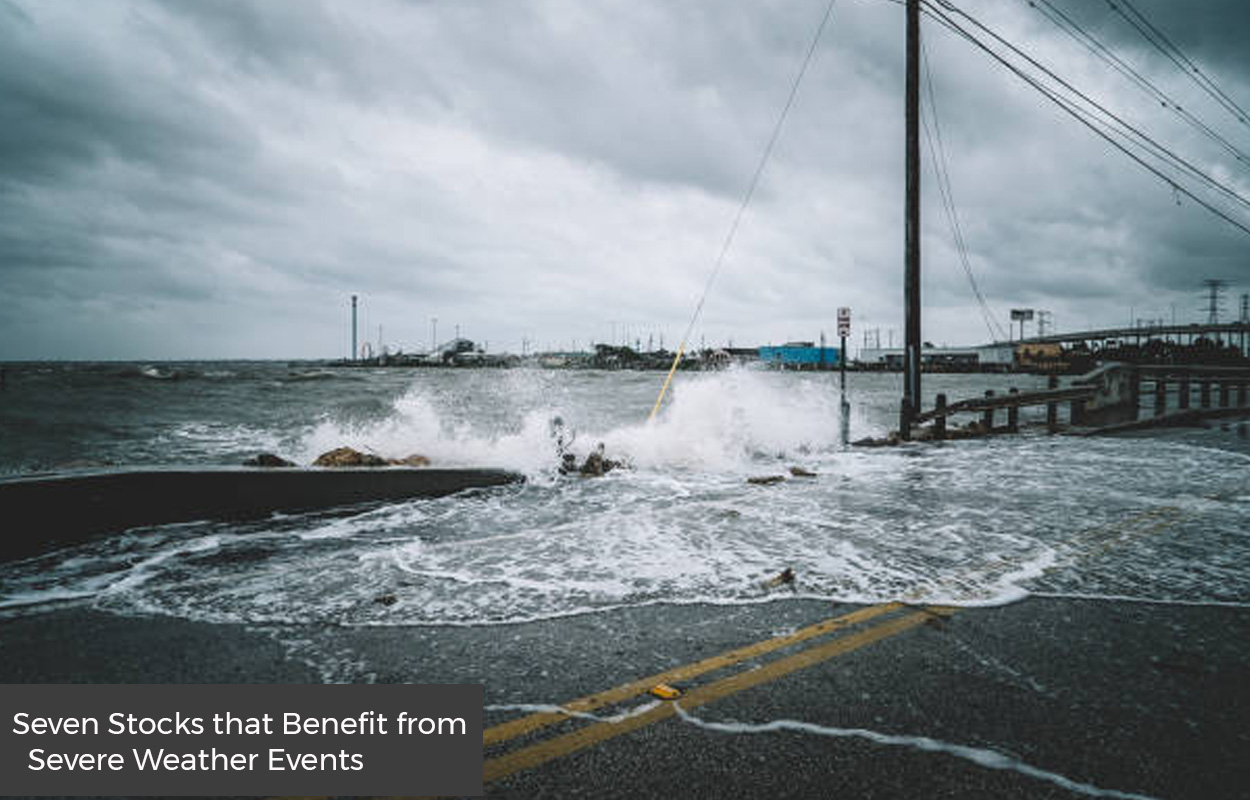 While storms and severe weather events can cause millions of dollars' worth of damage to companies and individuals, some businesses enjoy their benefits. Some companies often see revenue increases as a direct result of weather events.
Seven Stocks that Benefit from Severe Weather Events
Severe weather events are not for the weak. It has far-reaching negative implications for the broader economy and the investment world. However, there are companies out there that usually benefit from the season.
Here we will discuss in detail seven stocks that benefit from severe weather events.
Home Depot
Home Depot is the world's largest home improvement specialty retailer. It has over 2,200 stores in the United States, Mexico, and Canada. It is very smart for you to have Home Depot as a part of your long-term portfolio.
The stock has always performed exceptionally; however, the pandemic was a game changer for this stock. Throughout the pandemic in mid-March 2020, the Home Depot stock price increased by 1.8 percent.
Berkshire Hathaway
This is one of the safest bets in the investment space. It is an American multinational conglomerate holding company. Its main business and source of capital is insurance, from which it invests the float in a broad portfolio of subsidiaries and other securities.
Berkshire owns businesses in rail transportation, insurance, manufacturing, retailing, distribution, and energy generation. The shares of Berkshire Hathaway are trading at a very attractive price point. In stormy weather, these shares provide good value.
Generac Holdings
Generac Holdings is one of the foremost producers of generators for the commercial, residential, and industrial markets. It is also one of the best stocks that you should have in your portfolio.
Nine out of ten major power outages in the US in these recent years have been caused by hurricanes. Therefore, Generac Holdings became one of the stocks that benefit from hurricanes and severe weather events. From portable generators to large backup power systems, Generac's suddenly relevant pipeline has been the toast of Wall Street.
Copart (CPRT)
Copart is a global provider of online vehicle auction and remarketing services to automotive resellers such as rental car companies, fleets, insurance companies, and finance companies. The company was founded by Willis J. Johnson in 1982 and has its headquarters in Dallas, TX.
Part-time stocks are relevant in that some calamities result in property damage, especially to personal vehicles. Although this is a cynical argument, we can see Copart's stock rise based on this brutal economic slowdown.
Lowe's Companies
This is also one of the stocks that benefit from severe weather events. It is an American retail company that specializes in home improvement. Lowe's is very similar to Home Depot, both in terms of attractiveness among hurricane stocks and long-term performance.
The company operates in over 2,200 stores across Canada and the US. It serves approximately 20 million customers a week. From the early pandemic through May 2021, Lowe's stocks gained 164.3%.
MMM Company
This is a conglomerate operating in the fields of industry, worker safety, health care, and consumer goods. 3M is a stalwart in the business of dealing with natural disasters.
The company offers protection against myriad airborne irritants and contaminants. Plus, the company offers many other useful products, making MMM stock a wise choice for emergency preparedness.
Marine Products
Marine Products designs and distributes pleasure boats. Marin products are the ideal way to benefit from the storm season. This is because, during stormy seasons, many of these boats suffer substantial damage, leading to the inevitable demand to replace them.
During the peak hurricane season months, the MPX stock constantly rises before falling back during the spring and winter. The marine stocks are a stable performer that is twisting along at a steady pace. However, during storm season, the stock has the potential to explode.
Frequently Asked Questions
Here are some of the most frequently asked questions about eight stocks that benefit from severe weather events.
What stocks do well during natural disasters?
Energizer Holdings, Inc.
Fluor Corporation
Smith & Wesson Brands, Inc.
Denny's Corporation
AECOM
These are the stocks that do well during natural disasters.
What stocks go up during a crash?
Gold, silver, and bonds are the stocks that traditionally stay stable or rise when the market crashes. Gold and silver hold their value over time, and this makes them attractive when the stock market is volatile, and their increase in demand drives the prices up.
What product sells best before a hurricane?
Listed below are some of the products that sell best before a hurricane.
Bottled water
Batteries
Mop, bleach, and other cleaning supplies
Non-perishable food
Candles and torchlights
Generators
What companies do well during inflation?
Below are the companies that are in sectors that benefit from inflammation.
Real estate
Bonds.
Financial companies.
Consumer staples.
Commodities.
What should I invest in before the crash?
If you are investing for a longer period of time, fixed or indexed annuities or even indexed universal life insurance products can provide better returns than Treasury bonds. However, if you are a short-term investor, bank CDs and Treasury securities are a good bet.
CHECK THIS OUT: