Observing value is one thing that should be done in any economic context. The worth of all the anticipated future cash flow that a business will produce, discounted by a discount rate, eventually determines the business valuation and this article will cover 7 ways on how to improve enterprise value of a company.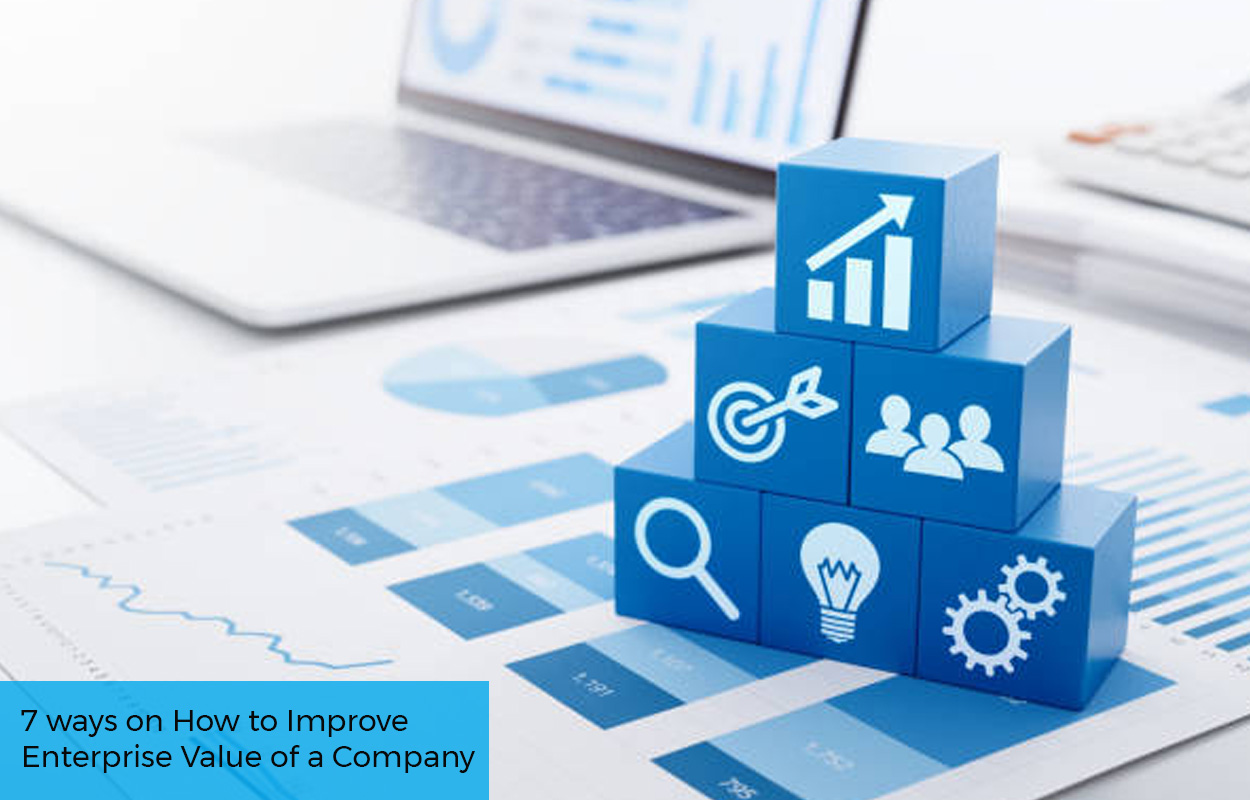 As a more complete measure of a company's value than equity market capitalization, which takes account of debt, enterprise value is frequently utilized. The value of the customer is crucial to corporate operations. Moreover, this is because it demonstrates that businesses make efforts to enhance and expand procedures in order to meet client expectations.
7 ways on How to Improve Enterprise Value of a company
It is crucial for business owners to start keeping track of their company's value at least five to six years before they are even open for business. The majority of business owners do not invest as much as they ought to in enhancing enterprise value. That's because they are at ease performing the organizational activities at which they excel.
However, you can dive into enterprise value if you want to create exceptional value for your team and the history of the business. Here are seven specific ways to do it.
Create a strong, tenable growth strategy.
Sales will be gradually increased by salespeople to see if the company's future expectations are consistent with its historical performance after developing a solid, sustainable growth strategy.
The growth plans of businesses that have grown by 5–10% annually over the last five years but are projecting growth rates of 20–25% in the future are the least credible. Investors cannot be expected to believe in a proposal that lacks solid analytical support.
Here's how you develop a solid, sustainable growth plan:
Establish smart growth goals first.
Create strategies to help meet those growth objectives.
Consider tools that will help you achieve your goals and plans.
Implement your growth strategies.
Analyze your outcomes.
Improve your growth plan.
Set new SMART goals.
With these suggestions, you can create a solid, sustainable growth strategy.
Promotion of the Value Proposition
It's crucial to promote the value proposition of your business. The value proposition demonstrates how customers perceive a product or service to be worth paying for. Customers may place a higher value on an offering if they believe they can rely on it in the long run, making them more inclined to pay a premium price for the quality they receive.
An explanation of why a buyer should select your goods or services is known as a "value proposition." The value proposition of a company is undoubtedly the most crucial component of your total marketing strategy. It is a declaration that details the advantages that a business offers to clients who purchase its goods or services.
Utilize Data Analytics to make wiser decisions.
Data analysis is the process of turning information into knowledge that can be used to gain a competitive advantage. It has a great deal of potential to enhance decision-making, which will therefore boost productivity, profitability, and value. Descriptive analytics, prescriptive analytics, and predictive analytics are the three different types of analytics. The personal preferences we frequently employ to make judgments are lessened by all three sorts of analytics.
To minimize downtime and avoid shortages, a factory performs preventative maintenance using data analytics. To foresee shifts in plans, most people employ data analytics to gain insights on absenteeism patterns. Organizations that understand that data is an asset are better positioned culturally to make use of it.
Drive greater Predictability into your revenues.
Increasing the predictability of your sales is another approach to raising a company's enterprise value. Your company will become much more valuable if you can develop highly predictable recurrent or recurring revenue streams from your clients.
You should become skilled at and consistently succeed at revenue forecasting. It serves as a framework for establishing consistency year after year and fostering business growth through a systematic procedure.
Be creative and consider Millennials' open office needs.
Another strategy for increasing a company's enterprise value is this one. Examine how your company is currently utilizing its space and the working environments that your employees require. Millennials make up more than 50% of the workforce, and remote work arrangements are still on the rise.
Over 50% of respondents to the CBRE poll indicated that they would be willing to make different sacrifices in order to achieve a better workspace, which suggests that millennials place a high value on workspace quality.
Present Bundled Goods
Bundling is widely used in many markets. It is one of the best strategies to raise a company's enterprise value. If your business sells a variety of goods, it might be in your best interest to provide additional goods at a discount compared to the cost of buying them separately.
Along with your individual product offerings, you might also think about providing a combined alternative. Sales were down 20% as a result of pure bundling without distinct products. A hybrid bundling approach generates more income.
Determine the Financial Viability of Upcoming Projects.
One strategy to increase the enterprise value of a firm is to estimate the profitability of upcoming projects. When determining the profitability of upcoming projects, there are three metrics to take into account. They are the internal rate of return, payback time, and net present value.
The net present value is the sum of money that an investment will cost your company overall. The payback period is the amount of time it will take for your investment to cover its initial cost. The discount rates that set the net present value to zero are known as the internal rate of return.
Frequently Asked Questions
How can I raise the value of my business?
This three-step procedure can be used to simplify the process you can utilize to increase enterprise value.
Run an analysis of the current process.
Consider the actions that add the most value to your company.
Conduct an analysis of focused benchmarks.
What are the typical techniques for a business valuation?
The list below includes some of the most popular ways you can raise your company's valuation.
The valuation of historical earnings
Comparative valuation
Valuation of future maintainable earnings
valuation of discounted cash flows
What distinguishes "solid business value"?
Integrity, teamwork, ethics, quality, customer satisfaction, and innovation are all important. These factors all contribute to a company's worth.
CHECK THIS OUT: